Welcome to Paradise
Welcome to Casa Corona, the perfect place to live at one with nature in stylish and comfortable surroundings on the Sub tropical Island La Palma. Here you will feel like on top of the world and among stars. The house is the perfect place for families and big groups/retreats (up to 14 People).
This Tourist House is special, the setting, the views of ocean, stars and forest, the gardens and the architecture. The round living room is 120 m2 and has an amazing view of the ocean.
Casa Corona has a heated around 24 degrees C, 8 by 4 meters saltwater pool with a 200m2 pool area with a wooden outdoor sauna house for 6 people, a ping pong table and sun-beds. All over the property you will find spectacular views of the ocean, forest and the stars.
The Space
The house has a living room kitchen with all you need to cook for many people, dishwasher, big fridge and a professional cooking area. Casa Corona houses up to 8 people comfortably. 10 people if you join the apartment in the back on the house. The Apartment (see photos) has a big bed (180 by 200cm), private floor heated bathroom, private entrance and a terrace with a outdoor hot-tub. The use of this apartment costs 50 euros extra per night, unless you are more 13 people. The accommodation is mostly in double beds 3 of the 5 bedrooms (including apartment) have their own floor heated bathroom. One bathroom has a private jacuzzi bathtub. Allmost all sleeping rooms have wooden floors and wooden roofs. High speed ( up to 50 Mbits.) wifi internet, air tunes, flatscreen television and a stereo system form a natural part of the Casa. Some rooms and bathrooms have their own private speaker system as well. The house has a 100 m2 roof terrace with 150 degrees view of the ocean and plenty of space for chilling.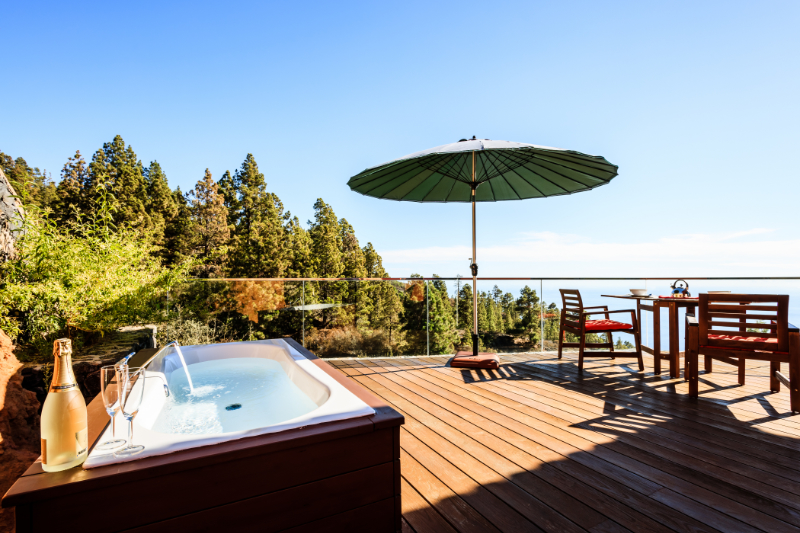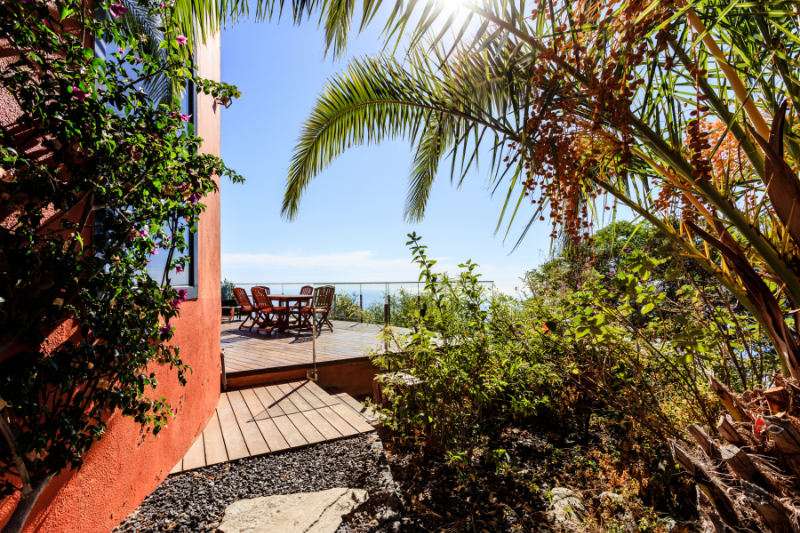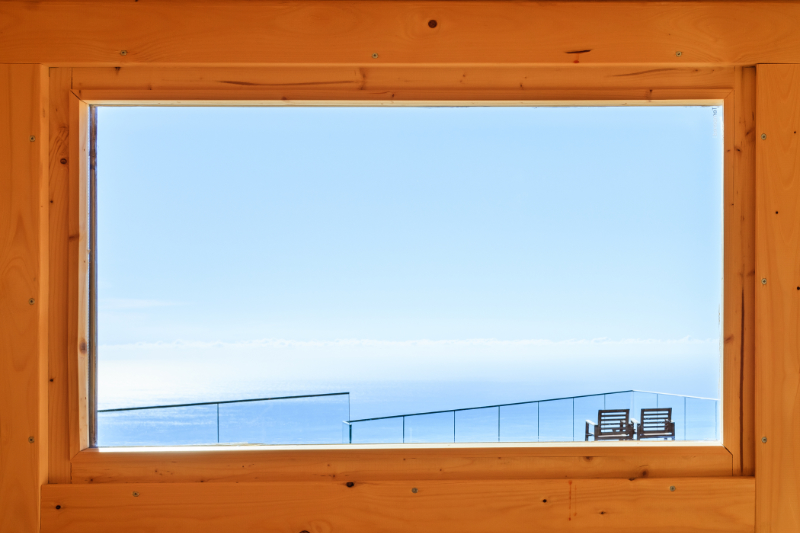 This tourist complex consists of a approved tourist rental house (Alojamiento Extra Hotelera en el Medio Rural, EMR-38-5-0000014) with a capacity of 9 people and a Casa Vacational (VV-38-5-0001177) with a capacity of 5 People.
Casa Corona can also give room for seminars/retreats of all sorts, family reunions of several generations, company reunions, along with small functions and so on. United with the Casa Corona (the next door pool House), up to 14 people can sleep comfortably. In total the place has 7 bedrooms (6 of which have double beds (160 by 200 meters), 8 bedrooms if you count the sleeping cave. The place has 6 Bathrooms in total (one bathroom is beneath the Pool). A outdoor Gas-Grill is situated behind the house.
The house is 1 hour and 10 min drive away from the Airport and 20 mins drive to the main beach Tazacorte ( or town Los llanos). Local beaches in Tijarafe are closer with some walking included, yet mostly only open in summertime or with small waves. Many beautiful hiking trails pass in the area around the house that leads all around the island. Garafia or the Caldera with infinite amazing hike trails is 30 min away with car.
The house is nested on a mountain ridge surrounded by pine trees and almond trees. The property has some fruit trees ( apples, grapes, figs, oranges, nispero, avocados, kaki, plums, chestnuts, chirimoya e.t.c). Please feel free to take what ever is ripe ! Casa Corona resides on a 5 acre estate, that guests will have access to. The estate is situated on 700m altitude, and it is the last house on the road. There is a guest parking for 4 cars straight in front of the house.
We also can provide the contact to a professional and private hiking tours for those that want to hike those unknown and magnificent hiking trails.
We can also arrange the contact to a Chef that cooks dinner for small to big parties.
Guest access
Guests will always be alone on the property and will have access to the Vila if you are 8 people or less. If you are 9-11 you will also have access to the pool house. If you are 12 people or more you will also have access to the rear Apartment. The Pool house and the apartment will remain locked if not booked as described above. Both units can be booked extra for 50 Euros extra per unit/night. The gardens and the pool area are at your disposal. There is plenty of room for a larger group to feel very comfortable.
Interaction with guests
Francisco, the caretaker of the complex will greet you at the House, show you everything and hand over the key. Please Call him when you have landed on the island. Francisco lives close by and any question or problem can easily be answered and solved. Sometimes there might be some garden work happening on the property, yet nothing that disturbs or makes noise. We always make sure you have your absolute privacy. Casa Corona belongs to a Norwegian family and is managed by Martin Marstrand that will handle all mails and online contact.
Seminare
Casa Corona is perfect for having Seminars of many sorts. We are experienced in taking care of groups up to 14 People. June is a specially ideal month for Seminars since its low season. Please feel free to ask the owner for a Seminar offer.
Other things to note
The flights vary between Summer (low season), Winter /high season). Flights to La Palma, Airport (SPC Santa Cruz de la Palma) are best found searching www.flights.google.com, www.easyjet.de from Berlin, www.condor.de from 4 airports in Germany, www.iberiaexpress.com, Transavia and KLM from Amsterdam, Jetairfly from Belgium, flights thomson from Gatwick London, Iberia from Madrid, and many connecting flights to TFN, Tenerife north or TFS (with bus to TFN), Tenerife south, or LPA Gran Canaria. Connection to La Palma with Bintercanarias and Canaryfly. Sometimes there are tour operators that have cheap flight to La Palma. Search for cheap last minute flights to SPC. Santa Cruz de La Palma
Hope to see you soon in Casa Corona.